The Way Forward

Smart Community and Future City Initiative
Building upon the lessons learned from the March 2011 earthquake, Japan is using the reconstruction process as an opportunity to introduce innovative and state-of-the-art technology in the Tohoku region, leveraging renewable energy supported by financial backing of approximately 8.1 billion yen. A number of "Smart Community" and "Future City" initiatives are underway in Tohoku's three prefectures, aimed at revitalizing the region's economy and supporting the redevelopment of communities affected by the disaster.
Advanced renewable energy and energy storage technology are employed in the Smart Community and Future City projects including 'smart' grid systems. Their success can also serve as an example to help other cities in Japan and around the world adopt cleaner and more efficient infrastructure to address global challenges and ensure a more sustainable future.
About Smart Communities and City Initiatives
Smart Communities are networks of houses and buildings that efficiently produce and consume energy, encouraging reduced dependence on nuclear energy and conventional fuels and lowering CO2 emissions. The Government regards the development and promotion of Smart Communities as a growth sector, and is currently subsidizing construction projects in municipalities throughout Tohoku including Miyako and Kitakami in Iwate Prefecture; Yamamoto, Ohira, Ishinomaki and Kesennuma in Miyagi Prefecture; and Aizuwakamatsu in Fukushima Prefecture, jointly with private sector.
In addition to being environmentally friendly, Japan's Smart Community initiatives are expected to stimulate the economy in the Tohoku region. Market research company Fuji Keizai estimates that this business in Japan will increase by 3.4 times to ¥3.8 trillion in 2020, from ¥1.12 trillion in 2011, while globally the business will expand 2.5-fold to ¥40.6 trillion in 2020 from ¥16.3 trillion in 2011.
Examples of Smart Community Initiatives
Although the main Smart Community projects are still in the planning stages, steady progress has been made towards the development of smart houses and office buildings.
Along the Tohoku coastline, many initiatives are planned for the future. For example, Kesennuma City's Akaiwa Port, the current center of the marine product processing industry in the region, will be transformed into an eco-park with self-contained energy systems.
Additionally, a project called the Medeshimadai Mega Solar Project in Natori City will repurpose unused land into massive solar power plans, harvesting the renewable energy and storing it in case of future emergencies. A number of other public private partnership projects are underway promoting renewable energy, with Tohoku becoming a testing ground for the development of new solutions. For more detailed information on initiatives for renewable energy, read more about Clean Energy Initiatives.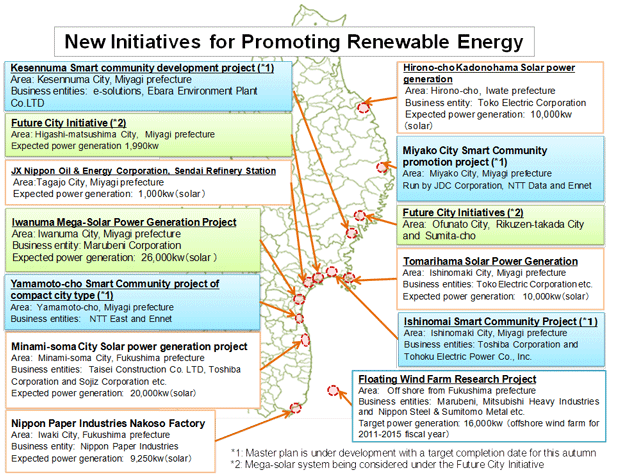 About Future City Initiatives
By designating a number of cities in the Tohoku region as "Future Cities," Japan hopes to build cutting-edge communities utilizing advanced technology, new socioeconomic systems and innovative business models in order to address modern challenges such as the environment and aging. The ultimate goal of each Future City is to sustainably resolve environmental and urban issues to allow residents to live prosperous, healthy and secure lives in a vibrant society.
Examples of Future City Initiatives
The town of Minamisoma, which suffered extensive damage following the March 11 disaster, is part of this new initiative to build the 'city of the future.' In Minamisoma, renewable energy – wind, solar and biomass – will replace conventional power generation. In June 2012, the city announced that it would become the site for Japan's largest solar-generation facility, producing enough power for 30,000 homes by 2014. The city will also be more 'compact', with centralized high streets and residential areas. Homes will be energy-efficient, equipped with solar panels and storage batteries.
Basic concept of the 'Future City' Initiative