[19 Sep 2012] Symposium for 'Invest Japan' Promotion for Reconstruction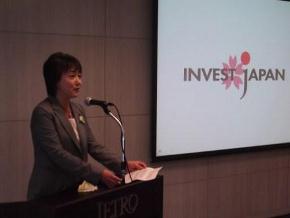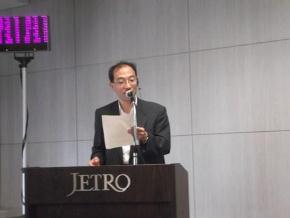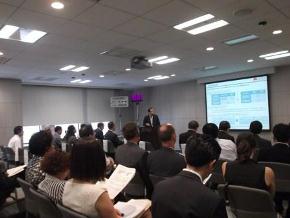 A seminar, "Symposium for 'Invest Japan' Promotion for Reconstruction, took place on 19 September 2012. The seminar is one of the efforts of the Reconstruction Agency in following up the previous ones of Agency held in Tokyo, Hong Kong, New York City and Taipei in the first half of this year. The seminar, organized in cooperation with the Cabinet Office, Ministry of Foreign Affairs, Ministry of Economy, Trade and Industry and Japan External Trade Organization (JETRO), aimed at promoting foreign direct investment in the areas damaged by the Great East Japan Earthquake last year.
The symposium was opened by the addresses of Ms. Kazuko Koori, Parliamentary Secretary for Reconstruction and Mr. Keiro Kitagami, Parliamentary Secretary for Economy, Trade and Industry, followed by presentations from relevant organizations and the local governments. For the first time in the seminar of this kind, representatives of foreign corporations made presentations on their activities in the damaged regions. The symposium was concluded by the remark of Mr. Hiroshi Ogushi, Parliamentary Secretary, Cabinet Office.
The Reconstruction Agency took this opportunity to renew its clear commitment that it is open to any query from private sector interested in investment in the disaster areas, in particular, in a case where it faces difficulties in proceeding with its specific plan for investment in the damaged regions. The Agency is also ready to hold consultations with foreign private sector on any issues emanating from consultation process with local governments, for example, on those relevant to land use regulations.
The Agency suggested in its presentation that the newly introduced frameworks such as tax breaks be made best use of, alongside other incentive schemes being conducted by relevant ministries and local governments and that the tax break mechanism may be utilized in the following manner: a private company picks up appropriate items in the menu of tax exemptions for each year which it considers most suitable for company's specific plan for investment.
(example)
Immediate depreciation for the first year;
Special corporate tax credit for the second year; and
Taxation to promote establishment of new business facilities for the third year.

------------------------------------
Date: Wednesday, 19 September 2012, 14:00-15:30
Venue: JETRO IBSC Hall, Akasaka, Minato, Tokyo
Program:
1. Opening Remarks
[Kazuko KOORI, Parliamentary Secretary, Reconstruction Agency]
[Keiro KITAGAMI, Parliamentary Secretary, Minister of Economy, Trade and Industry]
2.Presentation on Incentive Mechanism applied in the Special Zones for Reconstruction (Tax incentives)
[Noriaki USUI, Senior Deputy Head for Section of Special Zones for Reconstruction, Reconstruction Agency] 
3.Presentation on Challenges of 'Invest Japan' Promotion
[Nobuyuki NAGASHIMA, Director General of Invest Japan Department, JETRO]
(Questions and Answers (Concerning 2 and 3 above))
4.Presentations of the three prefectures of Tohoku region on their features and strong points for direct investment
- Iwate Prefecture [Kazuhiko ASUKAGAWA, Executive Director, Corporate Development Division, Department of Commerce, Industry, Labor and Tourism, Iwate Prefectural Government]
- Miyagi Prefecture [Shinsuke YAMAUCHI, Deputy Director, Tokyo Office, Miyagi Prefectural Government]
- Fukushima Prefecture [Masahiro OOKOSHI, Deputy Director, Business Creation Division, Commerce, Industry & Labor Department, Fukushima Prefectural government]
(Questions & Answers (Concerning 4 above))
5.Presentation on Current Activities of foreign enterprises which have made direct investment in the afflicted areas after the 3/11 disaster
- IKEA [Yoko KITANO, Manager, IKEA Sendai Minishop]
- General Electric [Mark NORBOM, President& CEO, GE Japan, Vice President, GE]
6.Closing Remarks
[Mr. Hiroshi OGUSHI, Parliamentary Secretary, Cabinet Office]